Buy Direct From The Factory – AND- Save
Cut out the middleman and save hundreds of dollars.
There's No Better System…
There's No Better Price!
No More Lugging Heavy Vacuum Canisters or Uprights… that Bump into Walls and Damage Furniture.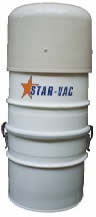 We are proud to offer high quality Vacuum Systems at very affordable prices.
Buy Direct … Buy STAR-VAC.
IT'S THE LAST VACUUM YOU'LL EVER NEED TO BUY!