STAR-VAC Benefits
Ever wondered why you just can't seem to get all the dirt and dust out of your home,no matter how hard you try? Now with a STAR-VAC system, you can.
Whether you are building a new home, renovating or just need to replace your old vacuum cleaner…It makes sense to install a STARVAC in your Existing Home.
A Cleaner Home
Trouble Free and Maintenance Free
Easy to Use
Proven Innovative Technology
Quiet & Very Powerful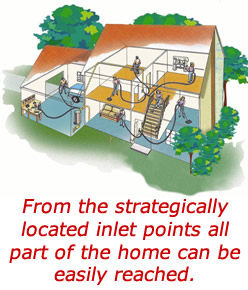 With our simple instructions, you can easily install the piping system into your existing home for the STAR-VAC Central Vacuum Cleaning System in less than a day, or if you prefer we can arrange local installation for you.